Final Assembly
Well, it's finished. The rail came out nice, thanks to the pretty strong PE-Foam, which doesn't give way when you pull the synthetic leather a little tighter.
All the screws fit nicely from the base plate trough the cloth into the (now invisible) T-Nuts.
The table sits nicely on my dining table, hold in place by 4 28x28mm slats which go around the outer edge of the dining table and a few felt gliders.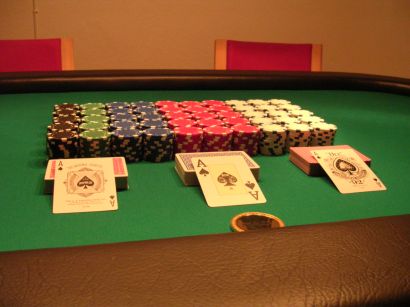 This little poser pic here shows my old 500 dice chips (have been replaced by NexGen Chips afew months later), my preferred playing cards, which are (from left to right) USPC Ramblers, NTP LongLife 100% Plastic, and USPC Bee. In the front, you can see my custom made shiny brass dealer button, which was a birthday present from my little brother.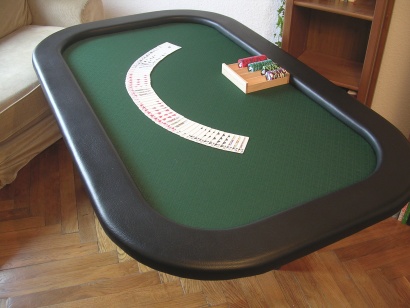 When I built my second table in summer 2006, I ordered 3 yards of Suited Cloth. Luckily, the leftovers where just big enough to pimp my "old", first table.