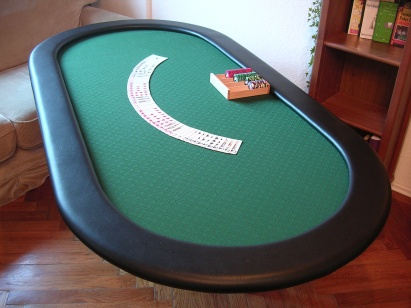 Welcome to my Poker Table site! These pics show you how my first Poker Table Project (the one on the second Picture) was done in Feb 2006 in Munich, Germany (where I live). The building of the table took me three days, including buying the materials needed.
A big "Thank You" goes to all the other Poker Table Builder Sites on the web, especially on www.homepokertourney.com, first for giving helpful info, second for creating the strong urge to build and have my own :)
If anyone has suggestions to offer, or questions, feel free to E-Mail me under "pt at cuca.de"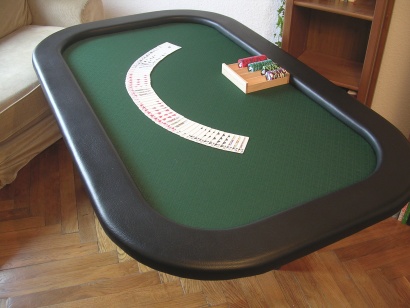 My first table is not really a Poker Table, its actually a Tabletop, since it has no legs and needs to be placed on my IKEA Norden dining table, which is 740x1350mm. When not used, the table fits nicely under the couch in the living room. When in use, the table sits on the dining table in my kitchen.
I had to deviate from the standard racetrack holdem table shape, because I didn't want the table to be much bigger than the dining table underneatch. The table is now roughly 960x1570mm, and fits 6-8 players depending on how cozy you want it to be..
My "newer" Table (upper pic) is a classic 10 Player Hold'Em-shaped 200x100cm Table which I built in Summer 2006.
One important note: I did all the work for my first table in the kitchen. That was a bad idea. Cleaning up the room between the steps and afterwards was a pain in the a§§. In other words: Don't try this at home :)